Kidnapped by an Ogre
"When life gives you lemons, make lemonade!" But what if you don't have water and sugar? Some days, I just can't keep my eyebrows from scrunching together. But after looking at the plights of characters in our story-based dances, my lemony day doesn't seem so sour anymore.
Since joining Shen Yun, I have played various commoners who go through traumatic events. I have been bullied by thugs, menaced by tigers, survived tsunamis, avalanches, meteor attacks… you name it.
For example, in Chang'e Flies to the Moon, I played a little girl, strolling with my grandpa. All of a sudden, eight ginormous birds morphed into scorching suns, broiling a heat wave of 700+ degrees Fahrenheit. The villagers frantically tried to cool off, but it kept getting hotter. I dragged my grandfather away from the turmoil, but the old man couldn't take the heat, and collapsed from dehydration.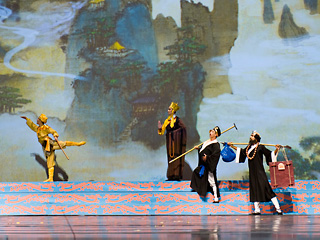 Just when all hope was lost, the former moon goddess Chang'e (pronounced "Chang Uh") and her mortal husband Houyi came to the rescue. Houyi was determined to shoot down the suns, so he obtained a mighty bow and started firing away. But when he aimed his arrow at the last remaining sun, Chang'e persuaded him to leave it in the sky. Houyi saved the day, and all the villagers—including my grandpa, who finally regained consciousness—lived happily ever after.
In 2011, I played a merchant in The Heroic Lu Zhishen. I was on a business trip with my trade group when a mob of bandits ambushed us. Scared out of our wits, we ran for our lives.
We then bumped—literally—into Lu Zhishen. The monk was still a bit tipsy; he had just been banished from his monastery for consuming alcohol. He turned and grumbled irascibly, but it seemed the collision knocked some sense back into him. When we begged for protection from the hooligans, he gladly assented. Luckily, fist fighting was Lu's specialty, and the drunk monk beat the ruffians without breaking a sweat.
Last season, I came across yet another disaster, adapted from an episode from the classic novel Journey to the West. My tale began like this: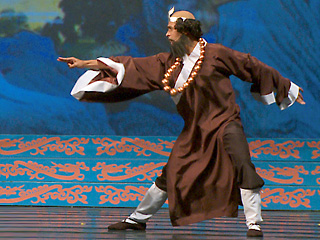 Once upon a time, in a land far, far away, a little hamlet rested along the banks of the Sandy River. Sadly, this river was home to a man-eating sea monster, who occasionally feasted on scrumptious villagers.
One day, a group of us young girls were frolicking by the riverbank. I happily skipped about, whirling my beloved pinwheel, while my buddies scavenged for seashells. Suddenly, the tide gushed upward, and out popped the ogre. He bared his teeth and snarled (or was that his stomach growling?). Before I knew it, the brute slung me over his shoulder like a sack of potatoes, raced toward the river, and hurled me into its murky depths.
So what became of the little pinwheel girl? Did the beast fatten her up before cooking, or devour her on the spot?
Fortunately, even man-eating monsters can be blessed with a change of heart. With the help of the Bodhisattva, the ogre became a Buddhist, joining Pigsy and the Monkey King in protecting Tang Monk on his quest for sacred scriptures. I, the little girl that is, returned to my family and friends while the ogre, now known as Sand Monk, joined the other Buddhist pilgrims on their journey.
So, will that be the end of my nightmares? What ordeals will I face in this 2014 season?

Alison Chen
Contributing writer
January 5, 2014